Sonam Kapoor's specially made Mangalsutra and wedding ring!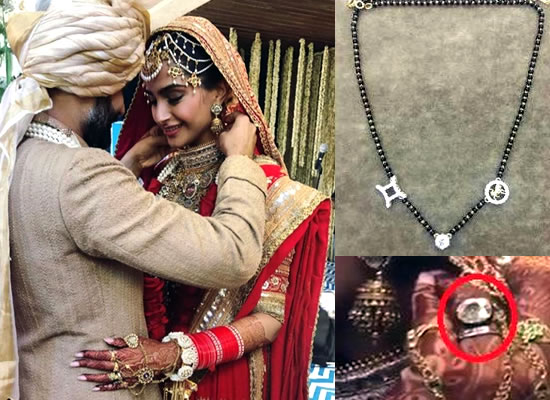 Well-known couple Sonam Kapoor and Anand Ahuja tied the knot in a private ceremony on May 8, 2018.
Sonam Kapoor's hubby Anand Ahuja gifted Sonam Kapoor a wedding ring worth Rs. 90 lakhs, as per reports.
Sonam also got a custom-made Mangalsutra with their star signs on it; hers being Gemini and his being Leo with a solitaire in the center.
In the meantime, Sonam Kapoor and Anand Ahuja thanked their friends and the Mumbai police for making their wedding magical. Sonam posted on her social media account, "Our Family is our strength.. thanks so much @kapoor.sunita you're the best mom in the whole wide world for making this happen in such a spectacular fashion! Daddy for being so such an amazing host and loving Anand and I so unconditionally @anilskapoor@priya.ahuja27 for going out of your way to do everything and making sure Anand and I get everything we desire! Harish Papa for being our rock of Gibraltar! @rheakapoor for being my best friend and partner and making sure my wedding was a success! @harshvardhankapoor you are my knight in shining armor, you effortlessly took on every responsibility and made sure all our guests were looked after, I love you so much!"