Huma Qureshi's bold and stylish avatar at Cannes 2018!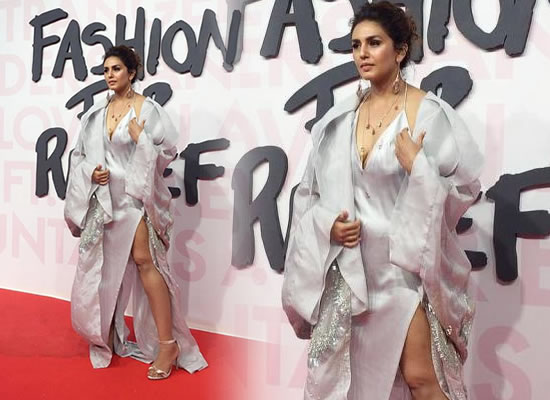 Bollywood beauty Huma Qureshi has been making quite a notable style statement at the 71st Cannes Film Festival 2018. The actor made heads turn with her flawless style. She turned bella of the balls for the screening of her movie Manto which left everybody overwhelmed.
In her newest look, Huma is seen donning a lovely metallic gown with a thigh-high slit which teamed up with a slip maxi. "Slay-mama! @iamhumaq bringing robes out of the boudoir and taking them to galas while burning it up in @elioaboufayssal robe and slip maxi, @outhousejewellery earrings and @swarovski necklaces with @alexandrebirman shoes for #fashionforacause show last night hosted by @iamnaomicampbell at @festivaldecannes assisted by @vedhikaghotge and @itsshanshan_ #humaatcannes #mrstylesxcannes #humaqureshi #MRStyles #teammrstyles #cannesfilmfestival2018," her stylist captioned.