Raghu Dixit Project @ The Garage!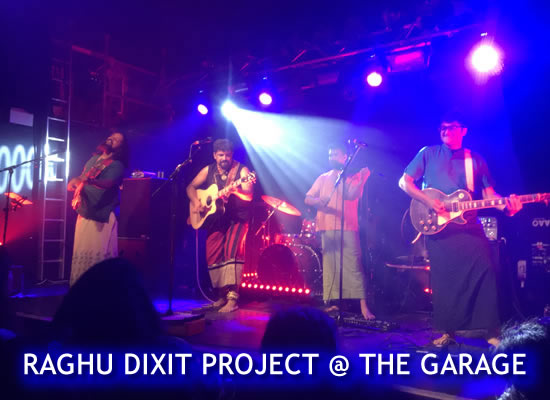 It's a grey day as I walk over to 'The Garage' in Highbury, a stones throw on the tube from Kings Cross. The venue, which hosts an extremely eclectic mix of artists, is about to welcome a five piece band from Bangalore, India, whose following is impressively that - eclectic!
During the early part of the evening, charismatic frontman Raghu Dixit is reminiscing about parts of the UK he has visited, when somebody shouts out 'Watts Fest!', bringing a grin to his face. They played the Devon based Festival in 2010, something that is indicative of the kind of loyal following this group has garnered.
Kicking off the show with the title track of second EP 'Jag Changa', phones are away and feet are stomping as energy & personality are radiated from the stage, and reciprocated by the willing audience - this isn't a show, this is a party! Dixit effortlessly goes from Hindi, to Kannada (the language of their home state Karnataka) which brings roars from the rowdy fans who hail from there. The hometown pride is evident too, worn as a badge of honour and bearing influence on the music of both their albums.
We are treated to some of the hits from breakout EP 'Antaragni' too - 'Gudugudiya Sedi Nodo', a poetic song about smoking Hookah and full of soul is emphasised by beautiful Guitar & Violin solos from his wonderful band.
Dixit shows off his flair for other languages too with the song 'Amma' written by legendary Tamil Poet Vairamuthus' son, Madhan Karky, a tribute to his mother who helped support his career (& mothers everywhere).
By the time 'No Man Will Ever Love You' hits, the broad mix of backgrounds in the room have become a singular continuous rousing chorus, eating out the palms of the hands of the band. Even the venue security in the pit barrier couldn't help but smile and move along to the infectious rhythms!
From then on, they rock the crowd with a mix of songs including a previously unheard one, all received gratefully by every attendee. We reach the end to a thunderous ovation before an encore - monster hit 'Ambar' fills the room, causing the entire audience to devotionally sing along to every word in unison - a beautiful end to a magnificent night.
The band should be renamed the 'Raghu Dixit Experience' because that is what they deliver in spades - you walk away after an hour and a half, full of joy and boundless energy after listening to musicianship at the elite level. For one grey evening in London, Indias answer to 'Mumford & Sons' brought a rainbow to a corner of Islington.
- Gig Review By Prash Suthersan