Taapsee Pannu and Bhumi Pednekar starrer Saand Ki Aankh's first look!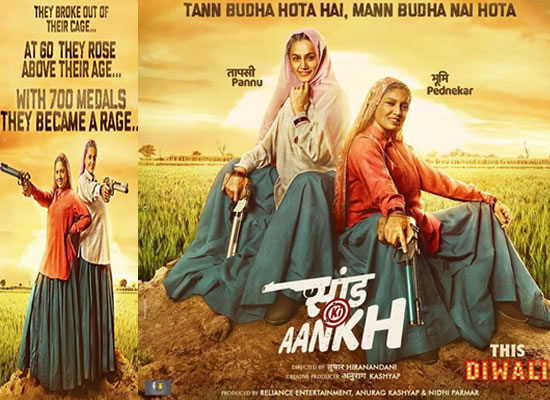 Bollywood's new Jodi Taapsee Pannu and Bhumi Pednekar are all set to ace the roles of the 'Shooter Dadis' Chandroand Prakashi Tomar in their forthcoming movie, Saand Ki Aankh. The first look of the movie was revealed by Anurag Kashyap who is also producing the movie and it shows Taapsee and Bhumi as the old shooters who are aiming straight for the bullseye. The movie is directed by Tushar Hiranandani and will showcase the journey of the oldest shooters in the world.
In the film poster, we can see Taapsee and Bhumi dressed as the original 'shooter dadis'. They can be seen donning a ghagra with a shirt and can be seen pointing the guns straight at the bullseye. Both Taapsee and Bhumi can be seen as two octogenarians who are all set to take on the world with their guns. Belonging to a small village in Uttar Pradesh in Bagpat district, Taapsee and Bhumi can be seen very well fitting the roles of the older shooting champs.
Filmmaker Anurag Kashyap posted the First look on Twitter and wrote, "Here it is bullseye साँड़ की आँख."