South celebs congratulate PM for stupendous Lok Sabha 2019 win!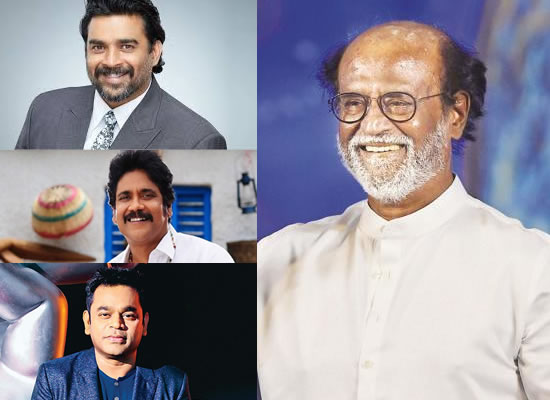 Prime Minister Narendra Modi witnessed a massive victory in Lok Sabha 2019 on Thursday and congratulatory messages were all over on social media. South Indian actors like Rajinikanth, R Madhavan, AR Rahman, Tamil star Vishal, Nagarjuna Akkineni, actor Siddharth, and Soundarya Rajinikanth among others took to Twitter and wished PM Narendra Modi over BJP's huge win.
Celebs tweets as follows:
Sushanth A tweeted, "The people have chosen!Congratulations to Shri @narendramodi ji & @ysjagan garu on their emphatic wins. To progress in these 5 years #Election2019"
Nagarjuna Akkineni tweeted, "Hearty congratulations to the new and young chief minister of Andhra Pradesh @ysjagan for the landslide victory!!"
Rajinikanth tweeted, "Respected dear @narendramodi ji hearty congratulations ... You made it !!! God bless."
Siddharth tweeted, "Congratulations #PrimeMinister @narendramodi ji for a historic win in the #Elections2019. I hope you will take us to great heights. I promise to always voice my honest opinions in the interest of our great nation as a citizen without fear. Please spread love. God bless. Jai Hind."
Vishal tweeted, "Congratulations to our hon PM @narendramodi ji and the Bjp party for the massive n landslide victory in Loksabha"
Ranganathan Madhavan tweeted, "@narendramodi Dear Modi Ji.Your incredible & relentless commitment and pure intentions, has now got the entire nation waiting with bated breath for you to lead us into a glorious Era of governance and prosperity. God bless you with the best of health Strength and longevity."
A.R.Rahman tweeted, "Congratulations @narendramodi Ji & @BJP4India for winning the #LokSabhaElections2019. Looking forward to a Miraculously Progressive United India"
We also congratulate PM for this huge win.