The soundtrack of Mubarakan is satisfying and enjoyable with Punjabi flavor.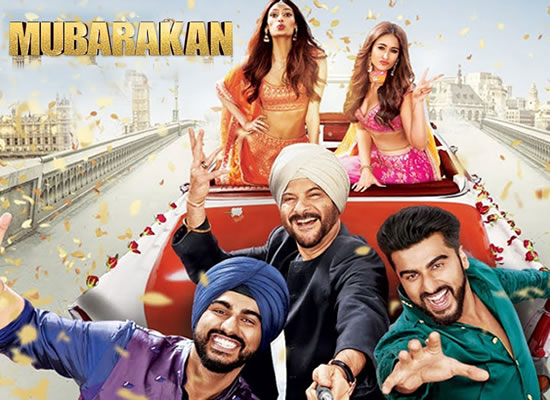 The soundtrack of Mubarakan which has half a dozen songs packed in there with each of the tracks been integrated rather flawlessly. While lyricist Kumaar guarantees that you get the Punjabi mood and setting right, the bunch of composers work in tandem as well with director Anees Bazmee to put together a boisterous album for Anil Kapoor, Arjun Kapoor, Ileana D'Cruz and Athiya Shetty.
The album begins with The Goggle Song. Amaal Mallik's foot tapping outing is The Goggle Song. It is time to put on the glasses and hit the dance floors the moment you hear the beats of this fun song that has a sure Punjabi flavor. It is a lively number.
The second song is Rishi Rich and Yash Anand composed title song, Mubarakan with fun element. Singer Sukriti Kakar really astonishes with her seductive vocals that go with the song and once Juggy D and Yash Narvekar join the proceedings, the energy level only soars further. This is not all as rapper Baadshah makes a remarkable appearance too and keep the celebrations on for 'Mubarakan'.
In the next song, Amaal Mallik returns to the scene with Jatt Jaguar and this is another song with Punjabi flavor. As a matter of fact it could well have found an inclusion into a Punjabi film soundtrack, courtesy the manner in which it has been tuned and orchestrated. That said, even though this Vishal Dadlani, Navraj Hans and Apeksha Dandekar song is foot tapping while it plays. It is a tuneful number.
The next one is a love song that makes an appearance in the form of Haathon Mein Thhe Haath. Spearheaded by Papon, this one gets into the 'sufi' zone. However, the man on the scene here is Arjun Kapoor and gets into a romantic avtar with this well-tuned number by Gourov-Roshin. Altamash Faridi, Aditi Singh Sharmaand Arpita Mukherjee join the scene as well in this filler track that wouldn't harm the narrative of Mubarakan.
The next one is Hawa Hawa which has retained its charm even three decades after it was heard first. The Hasan Jahangir sung track has stayed on to be quite popular right from the 80s and it is good to listen to its sound all over again, what with Gourov-Roshin bringing their own version into play. Mika Singh and Prakriti Kakar are very good behind the mike. It is really a melodious number.
The last one is a traditional number Dil Dhadke Louder Louder which has its origin in Punjabi wedding celebration tracks. Newcomers Rinku Giri and Puja Basnet are entrusted with the responsibility of singing this Gourov-Roshin composed track that is just right for Mubarakan that is all about weddings, celebrations and families coming together.
Overall, the soundtrack of Mubarakan is satisfying and enjoyable with Punjabi flavor. The songs The Goggle Song, Mubarakan and Hawa Hawa are harmonious and sweet numbers.