The soundtrack of Kaalakaandi is an average one with a good peppy number as Kalaakaandi.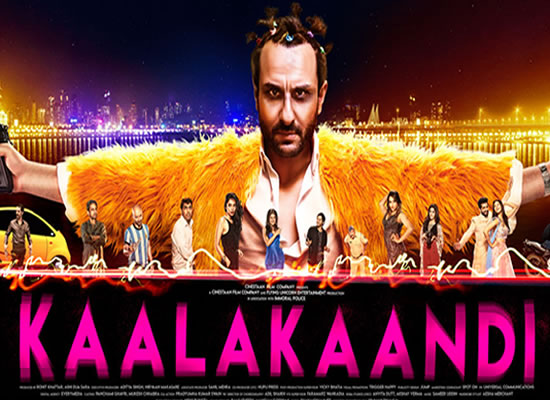 It's a bizarre soundtrack for Kaalakaandi. It looks that in quest to tread a different path, director Akshat Varma ended up uniting with composer Sameer Uddin and lyricist Anvita Dutt on something completely radical that just doesn't entertain at all.
The album starts with Swagpur Ka Chaudhary when Akshay Verma (who is also the lyricist here) ends up crooning this song. Reasonable, so this one does try to get into the Baadshah class and also has moments where you are hooked. It is a tuneful number.
The next one 'Kaala Doreya' is a tuneful number. Neha Bhasin sings this one and while she does seem like a weird choice actually, you are still fine with it till the time Raxstar comes on board. His rap further ruins whatever little had remained of this recreated piece.
The next one is Jive with Me that Abhishek Nailwal sung it seems more like an ad jingle than a song that has been created for a movie. There is just no recollection quotient that the song enjoys and the English-Hindi lyrics do not help the cause either.
In the next one, guest composer/singer Shashwat Sachdev comes up with the title song 'Kaalaakaandi', there is at least a bit of engaging factor generated. Not that the song with Vivek Hariharan, Romy & Arun Kamath as the other singers is any great shakes or the lyrics really enticing. It is a peppy number.
The soundtrack ends pretty quickly with 'Aa Bhi Jaa' as the last piece. Vishal Dadlani and Abhishek Nailwal try to uplift the quirky quotient, there is just no relief whatsoever.
Kaalakaandi is as bizarre as it gets and is an average album. Kaalakaandi's title song Kalaakaandi is a peppy and tuneful number.