The soundtrack of 1921 has beautiful compositions with melodious song such as Kuch Iss Tarah!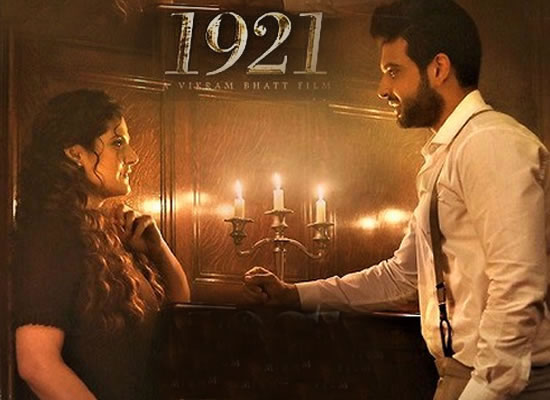 The soundtrack of a Vikram Bhatt's all films has always something different. Be it Haunted, Raaz franchise or 1920 franchise, music has time and again been the mainstay of his movies. Now Vikram Bhatt is coming with another franchise with newcomer composer Harish Sagane along with lyricist Shakeel Azmi who are supported by guest composer Asad Khan and lyricist Raqueeb Alam.
The album starts with song 'Sunn Le Zara' which is turning out to be a good soothing melody. Debutant Arnab Dutta gets a big break with film 1921. The feel of the soundtrack extends further with the second song Kuch Iss Tarah which is sung exceedingly well by Arnab Dutta. He gives his all to this song which has the essence of love soaked into right through its duration. If you have loved Vikram Bhatt's songs from the aforesaid franchises, rest assured you would love to give this one a good hear as well. There is assured purity of love in this song that Shakeel Azmi pens so well.
The one is 'Yaara' song in which Arnab Dutta gives a good account of himself, somehow the tunes start sounding a bit monotonous by this point in time. However, it doesn't really touch your heartstrings in the way the ones before it had managed to do right at the beginning. It is a harmonious.
The next one is 'Tere Bina' which turns out to be a better hear with guest composer/lyricist 'jodi' of Asad Khan/Raqueeb Alam coming on board. They rope in Arijit Singh and Aakanksha Sharma for this love. It is a good romantic song.
The next song is 'Aanewale Kal'. This one has a sugary melodic sound to it which has been sung with all heart in by Rahul Jain. Though one hasn't heard of the newcomer much in the past, he does well with this number which seems to have been created well for the situational appeal in the movie and should stay well with you when the film's story is progressing. It is quite exceptional to have so several instrumental pieces in an album and what is even rarer is to have each one of these being a piano piece. Composer Harish Sagane is accountable for three of them that go as 'Main Piano Theme', 'Crowd Gathering' and 'Piano Theme'. Each one of these flows pretty organically from one piece to another, hence lending a complete feel to the album.
The next one is 'Aggressive Piano Theme' which comes right at the start with composer Pranit Mawale hitting the right notes.
Overall, the soundtrack of 1921 is tuneful and melodious. Vikram Bhatt and his team of composers, lyricists and singers do it again as per their reputation.
1921's songs as Kuch Iss Tarah, Aanewale Kal, Sunn Le Zara, Tere Bina are sweet and harmonious.