Film Sonu Ki Titu Ki Sweety has a youth centered soundtrack with a few breezy numbers!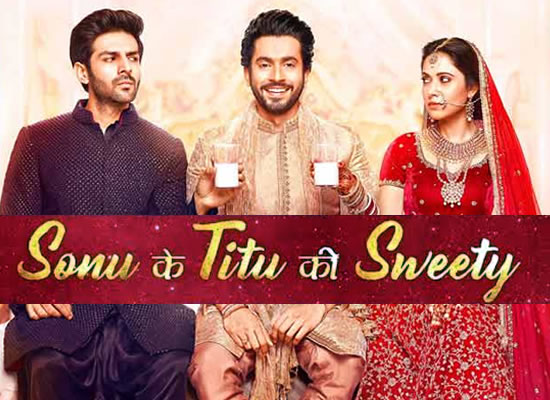 After the success of Pyaar Ka Punchnama franchise, Director Luv Ranjan does understand the pulse of the youth and with Sonu Ki Titu Ki Sweety he absolutely seems to have taken it to the next level. Ever since a couple of songs as Dil Chori and Chhote Chhote Peg from Sonu Ki Titu Ki Sweety were are scoring well.
The album begins with the composer Anand Raj Anand and singer Hans Raj Hans' hit tracks 'Dil Chori Sada Ho Gaya' and 'Tote Tote Ho Gaya'. They are successfully recreated by Yo Yo Honey Singh who comes back after a little gap and makes a solid comeback with his own versions. His excellent rap makes 'Dil Chori' a song to be remembered even as Simar Kaur & Ishers give him very worthy support.
In the next song, singers Neha Kakkar and Navraj Hans are Yo Yo Honey Singh's accompanying partners for 'Chhote Chhote Peg' which holds its ground in the new avtar and guarantees that the party goers have a lot to rejoice as they groove on to the beats on the dance floor. It is a lively number.
The next one is Amaal Mallik's 'Subah Subah'. The moment this Kumaar written song begins to play, you want to pack your bags and take that long highway ride with your loved one on a nice-n-warm morning. Arijit Singh, Prakriti Kakar and Amaal Mallik sing this one pretty much in tandem. It is a melodious and breezy number.
The next one is Zack Knight's 'Bom Diggy Diggy' which registers its presence instantaneously. This Punjabi-English-Hindi track has been a huge hit in the house-party circuits and the overall effect created by Zack (with his co-singer Jasmin Walia and co-singer Kumaar) is such that you can't help but play it on in a repetitive mode. It is an entertaining number.
The next one is Guru Randhawa's 'Kaun Nachdi'. He teams up with co-composer Rajat Nagpal for this Punjabi dance number that has Neeti Mohan has his additional partner. With a decent groove to it and an out and out enjoyable number. 'Kaun Nachdi' has the potential to do well.
The next one is Rochak Kohli's 'Lakk Mera Hit'. The young composer has been creating songs across all genres, ranging from soft pleasing numbers to dance hits. This one belongs to the latter category as Sukriti Kakar leads from the front along with Mannat Noor and guarantees that this breezy dance track written by Kumaar doesn't have a single gloomy moment.
The next one is Rochak's 'Tera Yaar Hoon Main' where he not just does his job as a composer but also sings this one with Arijit Singh. Kumaar writes some heartfelt lyrics for 'Tera Yaar Hoon Main'. It is another melodious number.
The album ends with Mika Singh's 'Sweety Slowly Slowly'. It is composed by Saurabh Vaibhav and written by Swapnil Tiwari. It is a normal track.
In general, Sonu Ki Titu Ki Sweety has a breezy youthful soundtrack. Songs as Dil Chori, Chhote Chhote Peg, Subah Subah, Bom Diggy Diggy, Kaun Nachdi and Tera Yaar Hoon Main are melodious and tuneful.