Film Half Girlfriend's music is pleasant and tuneful with songs Mere Dil Mein, Phir Bhi Tumko Chaahu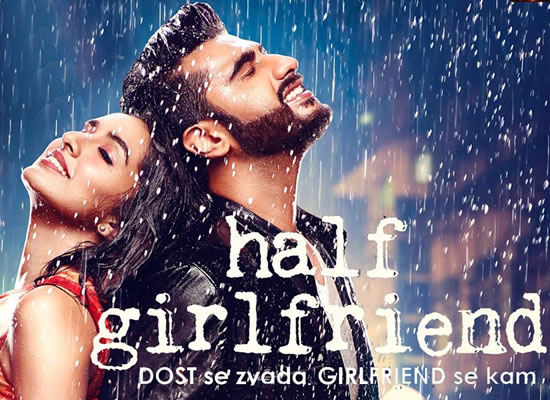 Film Half Girlfriend's music album could well be one of the biggest musicals ever that Arjun Kapoor is featuring in. Yes, Shraddha Kapoor still has Aashiqui 2 to her name, considering her association with director Mohit Suri in the past as well. But now that she is the leading character in Half Girlfriend along with Arjun Kapoor, one assumes yet another hit album that would enthrall the viewers.
The album begins with song Baarish. It is a track that one would like to sing to his or her loved one on a rainy evening. Lyrics by Arafat Mehmood & Tanishk Bagchi are just the kind that would make one's heart melt away and this actually turns out to be good team work, considering the effort that Ash King and Shashaa Tirupati put together behind the mike. It is a melodious one.
The next song is Phir Bhi Tumko Chaahunga. Mithoon and Manoj Muntashir are the designers of this song as the composer and the lyricist and they do not upset as Arijit Singh comes on board for the first version along with Shashaa Tirupati. While Arijit proves once more that he is the master of the genre when it comes to songs like these, Shashaa is a surprise as she gives a good account of herself despite being a newbie in the world of playback singing.
The next one is Arijit's Pal Bhar, which is 'Chaahunga Reprise', you do give a nod of approval as slowly and gradually the sound of 'Phir Bhi Tumko Chaahunga' begins to settle down. This is the reason why once 'Half Girlfriend Love Theme' comes up towards the end, it acts as a good instrumental version to keep echoing in your mind long after you are through listening to the whole album.
In the next song, newcomer Farhan Saeed coming up with Thodi Der. Written by Kumaar, this one with Farhan and Shreya Ghoshal as the singers, is a good continuation of 'Baarish' and 'Phir Bhi Main Tumko Chahunga', and in the process brings on a trilogy of romantic numbers in Half Girlfriend. It is remarkable to see how Mohit Suri has guaranteed consistent sound from his musical crew.
The next song is an English version as Stay A Little Longer by lyricist-singer Anushka Shahaney, though one waits to see how it is integrated in the movie. Ishita Moitra Udhwani contributes with additional lyrics and it is understandable that a couple of English numbers would feature in the film as well due to its language divide theme.
The next song is with Anushka Shahaney who pitches in as a singer-lyricist for 'Lost Without You' where she has composer-singer Ami Mishra for company. The team, with Kunaal Vermaa chipping in as well as a lyricist, comes up with a decent situational track.
In the next one, newcomer lyricist Laado Suwalka contributes with Sufi lyrics while composer-singer Rahul Mishra gives his soft rock touch to song 'Tu Hi Hai'. Sounding a bit like 'Sun Raha Hai Na Tu' [Aashiqui 2] in the opening portions, the song comes on its own soon after, what with the Sufi turn making it sound like an Emraan Hashmi number from five years ago. A good number, this one should good on screen.
The album ends with song Mere Dil Mein. A sung composed by Rishi Rich, it is sung by his regular partner Veronica Mehta, who has Yash Narvekar for company this time around. While they also play the role of the lyricists for this fun track, they are also supported by R. Rekhi, Yash Anand and Ishita Moitra Udhwani on the lyrics. A cool and happening number that should catch fancy amongst the campus crowds.
In general, the music of Half Girlfriend is good and melodious. It actually delivers a little more than what one had expected from it.
The songs Mere Dil Mein, Phir Bhi Tumko Chaahunga and Baarish are enjoyable and melodious numbers.