I want all the girls watching to know a new day is on the horizon, says Oprah Winfrey!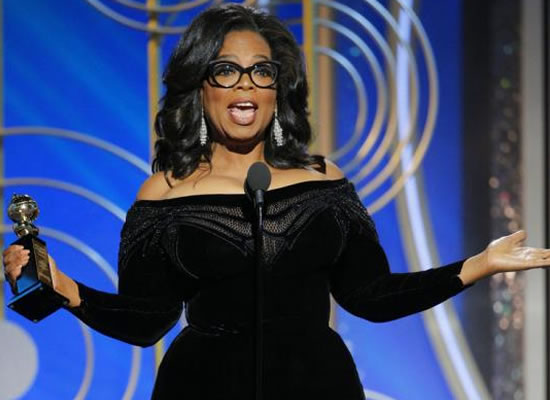 It was a 75th Golden Globe Awards and it has turned out to be one of the most noteworthy events in Hollywood as celebs wore black attires in support of Time's Up movement.
The Time's Up movement was in response to the recent Harvey Weinstein sexual harassment scandal which led to the ousting of numerous celebs like Kevin Spacey and Jeffrey Tambor as well as the Me Too campaign which took the world by storm. The movement was founded by 300 women from the entertainment world which include names like Reese Witherspoon and Kerry Washington to fight harassment and abuse in the workplace.
There was one more iconic moment which took place a while back as Oprah Winfrey won the Cecil B. DeMille award for lifetime achievement at this year's Golden Globes. She becomes the first ever black woman to receive this honour.
Oprah delivered an influential speech which will be memorable in people's minds for a very long time. Winfrey started the speech by remembering Sidney Poitier's win at the Golden Globes for 1964's Lilies of the Field. She specified, "It's not lost on me that at this moment, there are little girls watching as I become the first black woman to receive this award."
Oprah went on to speak about free press telling, "I want to say I value the press more than ever before as we try to navigate these complicated times. Which brings me to this: What I know for sure is that speaking your truth is the most powerful tool we all have. I'm especially proud and inspired by all the women who felt strong enough and empowered enough to speak up and share their personal stories."
The famous artist further added, "This year, we became the story. But it's not just a story affecting the entertainment industry, it's one that transcends any culture or workplace."
Oprah also spoke about Recy Taylor, who was raped by a group of white men in Alabama in 1944. She told, "Recy Taylor died 10 days ago. She lived too many years in a culture broken by brutally powerful men. Women were not believed."
She finished her speech in a beautiful yet commanding way telling, "I want all the girls watching to know a new day is on the horizon. And when that new day finally dawns, it will be because of a lot of magnificent women, many of whom are right here in this room tonight, and some pretty phenomenal men, fighting hard to make sure they are the leaders to take us to the time where nobody has to say 'me too' again."