The biggest DIVA I have ever worked with is Kangana, says Rajkummar Rao!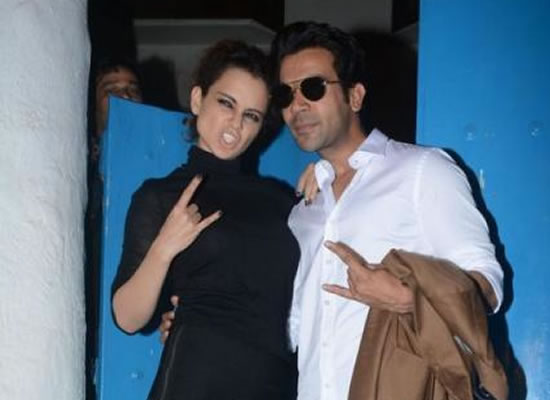 Bollywood stars Rajkummar Rao and Kangana Ranaut worked together in Vikas Bahl's Queen. Kangana and Rajkummar are all set to work together again in Ekta Kapoo's Mental Hai Kya.
The team released posters of the movie; Rajkummar and Kangana's peculiar avatar has created a buzz around the movie. "It's an amazing script as it is very quirky and different comedy. Kangana is such a powerhouse performer and we are coming together after Queen along with Ekta Kapoor (producer) so it's going to be lot of fun," Rajkummar had told about the movie.
Recently, Rajkummar Rao and Radhika Apte appeared on BFFs with Vogue that is being hosted by Neha Dhupia. In the 'Say it or Strip it' segment, Neha questioned Rajkummar, "Biggest DIVA you have ever worked with". Rajkummar was quick to reply, 'Kangana'.
In a previous media chat, Rajkummar had called Kangana 'sweet'. He had told, "It was great working with Kangana. She is really grounded and she is a really sweet person. I can say that this film is packed with Kangana's best performance till date."
During the show, Radhika Apte is questioned which actor or film-maker should retire and she names Ram Gopal Varma.
About Rajkummar, Kangana had told in a latest media chat, "He is a star today while still being a brilliant actor, so I will have to be on my toes to ensure he doesn't steal the show from right under my nose."