Kapil Dev to praise Big B for his passion towards profession!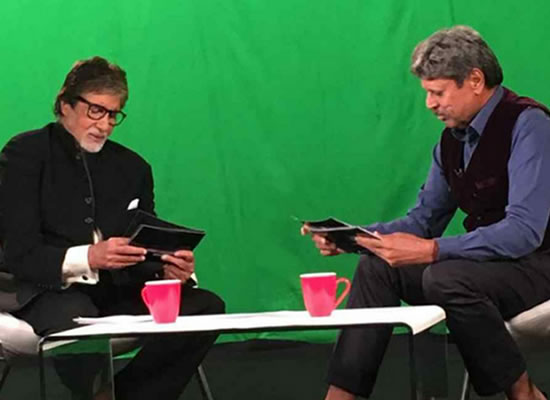 Cricketer Kapil Dev tells he admires superstar Amitabh Bachchan's discipline, dedication and passion towards his profession.
"Amitji has been an icon for generations and I admire his discipline, dedication
and passion towards his profession till date," Kapil told in a statement.
Amitabh Bachchan and Kapil joined each other for a discussion about the ongoing Indian Premier League (IPL). The highlight of the show was the repartee between the two followed by the teaser of the song "Badoomba", sung by Amitabh himself for the movie "102 Not Out".
The show involved both of them quizzing each other about cricket and Bollywood.
Questioned about his beloved team in the IPL, Big B revealed, "Even though my roots are deeply embedded in Mumbai, I am a son-in-law of Bengal with a son who owns two teams, of which one is from Chennai and another from Jaipur and my daughter-in-law is from Karnataka. This leaves no room for favouritism when it comes to watching the IPL."